Our Mission
The SSRMC provides the infrastructure and training to meaningfully integrate undergraduate students studying social sciences into faculty research. Our goal is to facilitate students in both developing their own independent research projects and developing the skills necessary to be competitive for jobs requiring data analysis skills. Students can apply to be in one of four formalized, mentored research experiences through the lab groups led by the directors of the center, Prof. Settle's Social Networks and Political Psychology (SNaPP) Lab, Prof. Holmes's Political Psychology and International Relations (PPIR) Lab, Prof. van der Veen's Systematic Text Analysis for International Relations (STAIR), and Prof. Manna's research team. Beyond serving as the physical home for these research labs, the SSRMC also provides research methods and data analysis training and tutoring for students interested in a variety of different methods used in the social sciences. The center supports the government department's faculty and student-led research initiatives in several ways. The SSRMC website is the repository of materials related to the department's methods workshops and a variety of other training tools and resources. The center also hosts the Omnibus Project student subject pool and provides dedicated experimental lab space and collaborative work space for students and faculty conducting research.
---
People
Co-Directors
Jaime Settle

(Acting Director)

Marcus Holmes

(On-Leave)
Student Leadership Team
Caroline Fagan
Hayden Le
Omnibus Director
Technical Director

Emma Butler

(Photo coming soon!)

Grace Murray
Student Director
Science Writer
Affiliated Faculty
| | |
| --- | --- |
| | |
| Paul Manna | Maurits van der Veen |
| | |
| Chris Conway | Philip Waggoner |
---
Facility
The SSRMC is located in the basement of Blow Hall, on the side of the building closer to the Sunken Garden. From outside the south side of Blow Hall, you can enter from either of the short staircases leading down underneath the Charles Center.The center is a multi-functional space for teaching and research. The SSRMC suite features dedicated spaces for experimental research, a computer lab, student meeting and research rooms, and faculty offices. Rooms are available for weekly lab meetings, large group meetings, or small seminar-style class sessions. In addition, informal lounge space exists for ad-hoc student meetings and serves as a comfortable waiting area for experiment participants.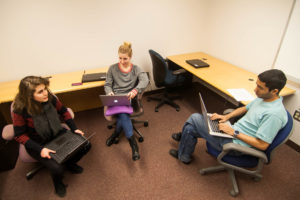 Computer lab (room 150): This is a dedicated computer lab with six networked computer stations. This room is used for experiments that require computer use as well as small seminar-style workshops and skills courses. A separate administrator′s station, with its own laptop, allows for research assistants to check-in subjects and to monitor the lab. 
Faculty offices (rooms 151-152): Two dedicated faculty offices are available to both permanent and visiting faculty and other scholars.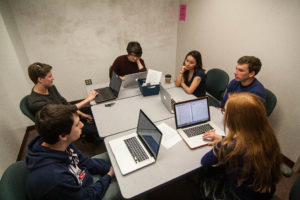 Student rooms (rooms 153-154): Two dedicated student meeting rooms are available for research fellows and other students to conduct lab-related research, hold meetings, study independently, or simply to access a quiet space for reading and writing. 
Experimental suite (rooms 155-157): Three dedicated rooms are available for experimentation. These rooms are outfitted with cutting edge physiological measurement tools, including the Biopac MP 150 system, and standard psychological measurement tools, such as audio-visual communication between the rooms.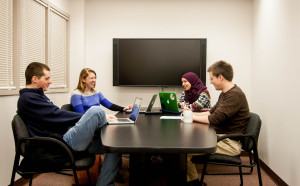 Conference room (room 158): A large conference room with computer projection resources is available for larger lab meetings, small classroom courses, or other meetings.
Biological specimen collection room (room 159): A small kitchen space is available for the collection of biological specimens and storage of temperature sensitive materials.
---
Contact Us
Click here for a guide to finding us on campus!
| | |
| --- | --- |
| Mailing Address | Shipping Address |
| SSRMC | SSRMC |
| c/o Government Department | c/o Government Department |
| College of William & Mary | College of William & Mary |
| P.O. Box 8795 | Tyler Hall, Room 318 |
| Williamsburg, VA 23187-8795 | 300 James Blair Dr. |
| | Williamsburg, Va 23187 |