ALUMNUS PRESENTS WEBSCRAPING, API WORKSHOP
Published: December 15th, 2017 – Written By: Grace Murray
On Thursday, Nov. 30, Justin de Benedictis-Kessner, a member of the College's Class of 2011, guided students and faculty through a tutorial on webscraping and data analysis in R, a statistical computing software and language.
de Benedictis-Kessner received his PhD from MIT in June 2017 and is now working for the Boston Area Research Institute, an organization that partners with Harvard and Northeastern to promote advanced interuniversity research. In the light of his post-graduate success, de Benedictis-Kessner credits his time at the College for planting the seeds of academic interest which have led him to return.
"[Professor] Rapoport got me really interested in research in political science and taught me that playing around with data that has not been explored yet can be really rewarding and fun. You can learn new skills, and it also can be part of your career," de Benedictis-Kessner said. "I ended up going to grad school and realizing that a lot of underexplored data sources are on the internet. So I thought it would be good to show some of the ways that I've gathered data for my research and also the way that a lot of different companies are gathering data or interacting with humans. It could be a fun skill for undergrads to pick up at a much earlier stage than I was able."
Graduating with a B.A. in Government and Psychology, and as a member of Phi Beta Kappa, de Benedictis-Kessner wrote an Honors Thesis for the government department on "The Tea Party In American Politics." His work evaluated social and political movements in an attempt to understand the placement of the Tea Party movement and its function. de Benedictis-Kessner still focuses on American politics and political behavior, but with an increasingly data-focused and empirical lens. In 2014 he co-authored an article with Professor Rapoport further analyzing the impact of third parties and their candidates.
The chart of de Benedictis-Kessner's research displays the evolution of his outlook towards research methods. His time at MIT, and the extremely challenging methods classes he took, have given him an appreciation for the opportunities made available through data analytics.
"I think there has been an arms race in terms of quantitative methods and I definitely opted-in to that. It was really tough, but that was the rewarding part of it. Some of the training you come out of grad school with is great for a variety of purposes. For research, yes, but also if you want to get a job [outside academia]. That's pretty cool to say you came out of grad school with marketable skills for a variety of career paths."
Many of the students attending the workshop hoped to take away knowledge which would set them up similarly for the career options which de Benedictis-Kessner has obtained.
"I'm a data science major, and I want to try and learn web-scraping to get data off the internet," said Daniel Tay, a senior and a former member of SNaPP lab attending the workshop. "A lot of data is available online but people just don't know how to access it. I just started the data science major this semester but I'm really excited by the prospects of data analysis and what we can do to learn that."
Not only will a knowledge of webscraping and data analysis set undergraduates up well in the long run, but students will also be able to undertake more challenging and relevant research while still at the College.
"More and more, when students want to do research, they want to use stuff you can find online, and it is enormously beneficial if you can get that in an automated way rather than going item by item," Professor Maurits van der Veen said. "Any type of automated webscraping is going to make it easier for students to do their own research projects rather than relying on someone else to gather the data. The more students can develop their own data sets and their own data, the more interesting their research can be."
Undergraduate research certainly played a role in de Benedictis-Kessner's experience, and he has advice for students hoping to move in an empirically-driven research direction.:
"Definitely start asking faculty members if they can help advise you on research projects early on, and start thinking of ideas that test hypotheses as early as you can," de Benedictis-Kessner said. "That's the process of research that's really exciting and that's what it's all about. The data gathering that we [talked] about today is just one piece of that. If you don't have an interesting research question, getting all of the data in the world will not help you. What's more useful is to consider 'what's a unique data source?' that you can use to test some political phenomenon that you want to know about."
Though data analytics are frequently depicted as meticulous and difficult, there are numerous options available to William & Mary students. The data science track, new this year, allows students to learn both programming skills while simultaneously developing research design skills and grappling with the ethics of data science . Additionally, the SSRMC offers numerous tutorials and modules for students interested in expanding their knowledge outside the classroom.
"Watch tutorials," Professor van der Veen said. "Lots of students are intimidated but there's not that much to actually be intimidated about. If you watch or read a tutorial online, you'll notice pretty quickly that you don't actually need to know that much to do this kind of data collection yourself."
Many of the tutorials needed to get started are already provided on our website. The SSRMC's modules cover the basics of R, webscraping, experimental design, and more. The staff of the SSRMC is currently in the midst of a campaign to raise funds to create more modules as part of a Methods Mastery Series. These modules would increase access to data science tutorials and guidelines, thereby increasing the use of methods such as de Benedictis-Kessners. If you're interested in donating, please check out our funding page in order to further the success of students interested in programming and empirical methods.
The slides from de Benedictis-Kessner's presentation, and more information regarding his career and studies, are available on his website.
---
ROUNDTABLE DEBATE EVALUATES SOCIAL SCIENCES' EVIDENCE
Published: November 12th, 2017 – Written By: Grace Murray
On Wednesday, Nov. 8, the SSRMC hosted a roundtable debate discussing the use of evidence within the social sciences. Arguing in defense of their preferred form of research, Professors Kaplow and McKinney evaluated, and debated, their use of evidence in their research in front of a packed house.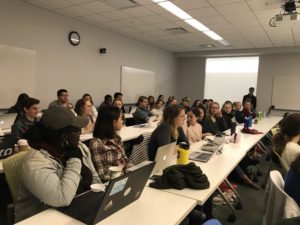 Professor McKinney's work centers on a philosophical restructuring of the debate on reproductive rights. She characterizes this as a hermeneutical approach, or an interpretational method of evaluation. Professor Kaplow researches nuclear weapons' impact on diplomacy and ways to predict future policy change, such as which states are most likely to acquire and retain nuclear weapons. This depends on empirical evaluation and an assessment of statistical significance.
Professor Holmes, acting as debate moderator, opened up by asking both academics to expand on how they conceptualize evidence.
"The way I like to think about evidence is very contextual. Evidence is anything that is useful in persuading somebody in the legitimacy of an idea," Professor McKinney said. "That means a couple of different things; it means both that this is highly dependent on the ideas you're trying to propose and that it's highly culturally contingent. When we think about evidence we always have to think about what is the aim and what is the audience."
On the empirical side, Professor Kaplow characterizes his work as understanding the function of the world. He likened it to the job of a car mechanic; although most people understand a bit about how a car works, the mechanic sees how it all works together and can attempt to predict or resolve any issues.
"It's nice to have the opportunity to think more about what we mean when we say evidence and how we use it. Sometimes we don't interrogate how we're doing research," Professor Kaplow said. "I conceptualize evidence in a couple of ways: first, I'm concerned that the evidence represents the theoretical construct that I'm trying to interrogate…Another way is in terms of probabilities. We don't conceive of our theories in a deterministic way. We want to look for some bigger trend or bigger picture."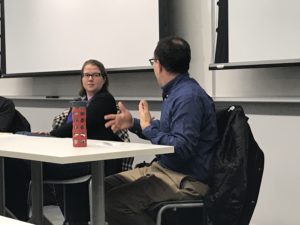 In addition to discussing the use of data within their respective disciplines, the professors acknowledged the shortcomings and inherent difficulties they both experience. Professor Kaplow emphasized the lack of comprehensive data sets, and the fact that parts of his research are only working with fragments of information available.
"All of us who are doing empirical political science, especially using datasets that are out there in the world being used over and over again, are struggling with the fact that this data has problems," Kaplow said. "So whenever you set out to use it, you need to understand how those problems are going to bias your findings. That's our protection against using bad data. I don't think we should stop doing science as we wait for data to get better."
Professor McKinney emphasized another area in which data abuse occurs by pointing out potential shortcomings in the peer review process.
"What you'll discover in the process of peer review is confirmation that there is no golden standard for the production of knowledge," Professor McKinney said. "We're actually deeply within knowledge communities that have standards and ways of keeping the gates up letting things in that are within it and excluding things that are without it."
A crowded room of students witnessed their amicable debate and had the chance to ask their own questions after the discussion slowed down. Ranging from the impact of the 2016 election on statistical evidence to the importance of peer review, the discussion fluctuated between disciplines.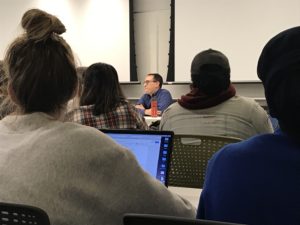 "I'm interested in international affairs and how you can use data to predict," freshman Danielle Batterman said. "I think it was really interesting how different people use data for different reasons, and how they define it differently. I feel like that can influence how people perceive different datasets and different findings."
Students present had varying levels of research experience, but all had the opportunity to learn as there were such diverse areas of research represented. Students in statistically based labs were newly exposed to Professor McKinney's logically evaluative approach, while students in more theory-heavy classes learned more about Professor Kaplow's use of empirical data.
"The approach that we take in STAIR lab is a lot of text analysis so we take a pretty data driven approach," junior Ryan Semsil said. "But then Professor McKinney's approach is just something that we don't consider more or less but it's something that is valid and really important. Even though we do a really data driven approach, there are different approaches with equal merit."
The debate was called a draw, as both professors were judged to have defended their perspectives thoroughly and thoughtfully. The exchange fostered a broad conception of evidence and highlighted the ability of students to find research that draws their interest. The drastic differences in the professors' conceptions of evidence and application thereof share a glimpse of the variety of forms that data may assume, while underlining that both are crucial to the social sciences.
---
SSRMC OPEN HOUSE WELCOMES, INFORMS STUDENTS
Published: November 5th, 2017 – Written By: Grace Murray
On Friday, Oct. 27, Professor Amy Oakes' Research Methods students flooded the SSRMC. Throughout the afternoon, staff members from the SSRMC and lab members from PPIR, SNAPP, and ITPIR spoke with students to outline the research and career opportunities open to them.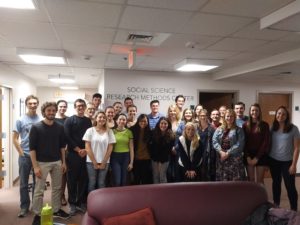 "[I learned about] all the different opportunities the international relations, government, and public policy programs offer and how you can do so many different types of research here at William & Mary and within the government department," freshman Anna Fridley said. "Also, [I learned] how to apply to the different programs and how to get credit for it as well. It was a really cool opportunity. I'm excited William & Mary has all these things and how students have gotten published."
In addition to becoming familiar with the SSRMC facility itself, the open house served to inform students of the plethora of academic and professional choices at their fingertips. The  social sciences contribute a heavy portion of research on campus; the government research labs available within the SSRMC offer intense application of real skills. William & Mary ranks seventh for undergraduate research in public universities across the nation. The research groups affiliated with the SSRMC help contribute to this accolade.
"I didn't realize that [research groups] were all under one giant umbrella. There are a lot of research opportunities that are funded that I had no idea existed," Hannah Richmond said. That's cool and a little scary at the same time because you feel like you want to get involved in so much. I think that was the biggest thing that I learned."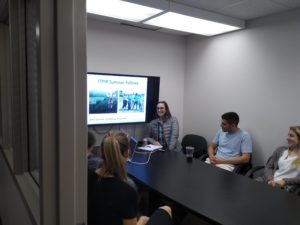 Research within the SSRMC moves at quick pace, but students are closely guided by professors to facilitate growth. This not only fosters important academic relationships, but also allows students to realize what they are capable of accomplishing. Speaking directly with lab members showed Professor Settle and Professor Holmes' impact on their students' time and course of study.
"I got to speak to the students about the layout of PPIR, specifically about the kinds of assignments you do, the workload, and the like," junior Nora Logsdon said. "I also tried to allay any anxieties they might have about taking on an independent research project by emphasizing how helpful and supportive Professor Holmes is throughout the process.  Hopefully I was able to convey what a valuable experience it is, and maybe convince some of them to become a part of this lab."
Although the open house only lasted the afternoon, opportunities to access the SSRMC never end. From stopping by to talk to lab students to actually joining a lab, growing comfortable with undergraduate research opens up the future for William & Mary students.